Supplies:
According to craftbits:
• Hammer
• Small plants or seeds (plants must have short and narrow roots)
• Planting soil (optional)
• Krylon metallic copper spray paint
• (4) Large nails (sorry, only two were photographed)

For the Planter you will need ½ inch PVC piping cut to the following measurements:
• (2) 7" inch pipes
• (1) 5 ½" inch pipe
• (1) 5" inch pipe
• (1) 3" inch pipe
• (3) 2 ½"inch pipes
• (2) 2" inch pipes
• (1) 1 ½" pipe
• (1) 1" inch pipe

Including:
• (10) pvc ½ inch elbow fittings
• (1) pvc ½ inch elbow fitting with one side threaded (a.k.a one side male and one side female)
• (2) ½ inch pvc crosses
• Red valve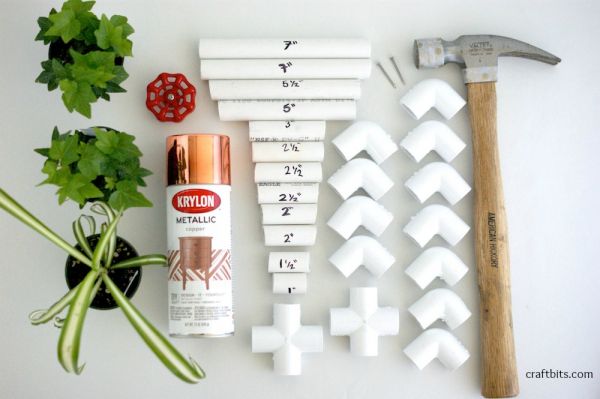 Directions:
1.  Assemble your supplies from the hardware store.  (You can cut the PVC yourself pretty easily but you could also ask your the attendant at the store to do it for you.  They usually will.)
2.  Assemble the pipes as shown here: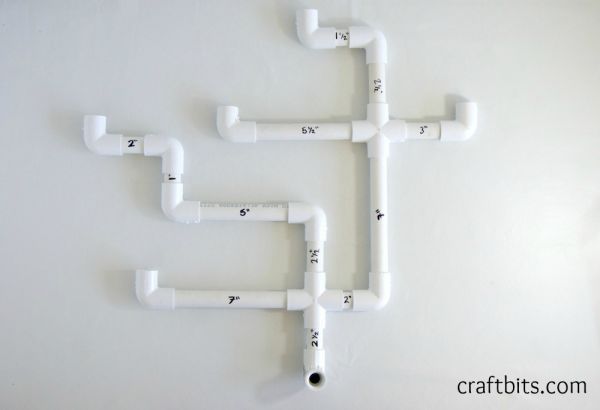 Be sure to push them together really tight.  If you do it tight enough, you won't need glue.
4.  Apply about 3 coats of your metallic copper paint.  Let dry in between coats.  It really looks like copper!
5.  After it is all dry, attach the valve.  It will screw on easily to a grooved/threaded end.  It will turn, too.  (If your pipe doesn't have grooves, you could always glue it.  Be sure to check with hardware store about the "male/female" PVC pipes.  The threaded are the "female" and that is what you want here.
6. Mount by nailing to the wall on both sides of each crossed point.  Like so: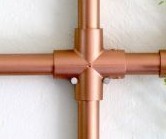 7.  Add the soil by putting in a little at a time and tapping so it fills throughout.  Plant your succulents and use a mister to water!
(Bonus:  If the plants you used require more water, put a potted plant beneath it and the excess water will drip from the valve into the plant.  Looks like a leak!:)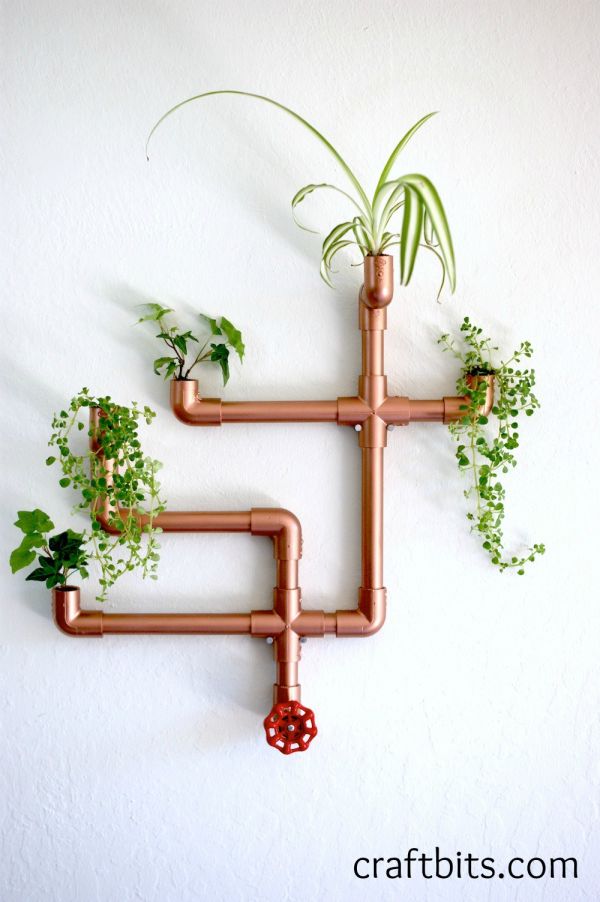 Have you done anything awesome with PVC pipes?  Show and tell us!
Thanks to craftbits for this awesome idea and tutorial!  See their site for more pics!