Upcycling bottles is always a good idea.  Whether you use them in the kitchen to store food, to store art supplies, as drinking glasses or as pretty little vases, you can't go wrong.
If you are using bottles to hold flowers, this is a great way to make them even more beautiful.
Take a look at them after they have had a MARBLE MAKEOVER.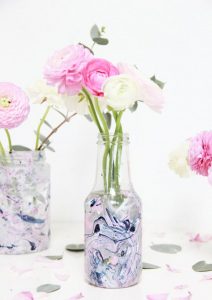 Pottery Barn will show you exactly how to do this.  Click on over there…
How do you upcycle glass bottles?