Talk about upcycling!  This project is an amazing way to reuse biodegradable material to create a long-lasting impact in your home.
According to inhabitat:
The floor consists of peach pips that are packed by hand onto a glued surface and filled with a silica sand and resin mixture, then sealed. The sharp edges of the pips are sanded off to expose the red hue of the pips and give the floor a natural wood feeling – making it warm, therapeutic and comfortable to walk on with bare feet. The floors are uniquely South African, natural and the design and color can be customized.
Check out how it looks in the whole room: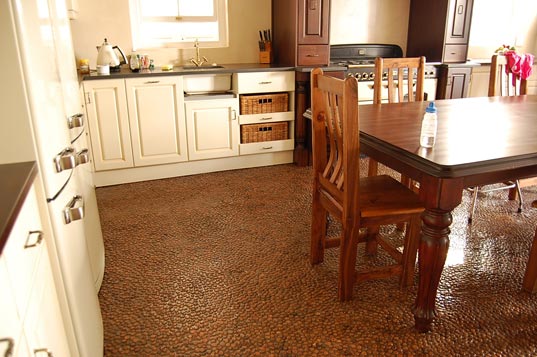 I would bet that those bumps feel wonderful on your bare feet.
What is the most unusual flooring you have ever seen or DIY'ed?
Thanks to inhabitat for this cool article inspiration!